cb Engage's Workload View displays all the cases managed within your organization. Each column gives you some details about the case. Expand the row to show who is involved on the case, the date it was created and when it was last updated.
For each case listing, the workload view displays:
Case name and type of case
The current status of the case
The primary worker assigned to the case
Note: If more than one worker is assigned, only the primary worker will display
As always you can access the global search bar and the notifications center in the upper right corner to search and review important activities that need your attention.
Filters
ASSIGNEES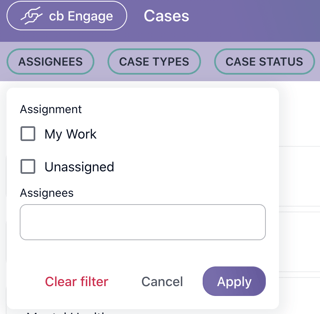 'My Work' displays cases only assigned to you. 'Unassigned' will display cases without a worker assigned
You can also filter cases by a particular worker, or multiple workers with the 'Assignees' search bar.
CASE TYPES
You can filter by different types of cases. You can select one case type to filter or multi-select several types of cases.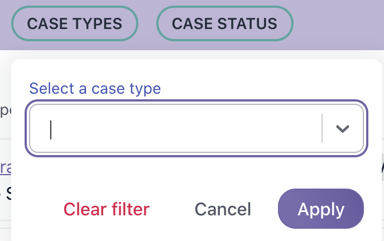 Note: Filtering by a particular assignee shows cases where you are assigned to the case but they may not be the "Primary Assignee."
CASE STATUS
You can filter by different statuses. You can select one or more than one to filter by.