The Home Dashboard is the main hub to view any of your assignments along with tasks and your calendar. Depending on your roles and permissions, your Home page view may vary.
Dashboard Header
Starting from the left-hand side you will find:
Main Navigation Menu (blue). This is how users will navigate throughout Casebook.
History Navigation. This is how users can quickly navigate to previously visited pages in Casebook.
Global Search. Use the search to quickly look up specific records.
Notification Bell. Stay up to date on items that need your attention.
Question Mark Icon. This menu contains access to our live chat and Knowledge Base.

Casebook Application Widgets
Users can click on each widget and they will be taken to the Workload View for that application with the My Work filter automatically applied.

Task and Workflows Widget
The Tasks and Workflows widget helps keep users stay informed at a glance of upcoming deadlines and tasks. In this section, the user's assigned workflows or standalone tasks are displayed by priority.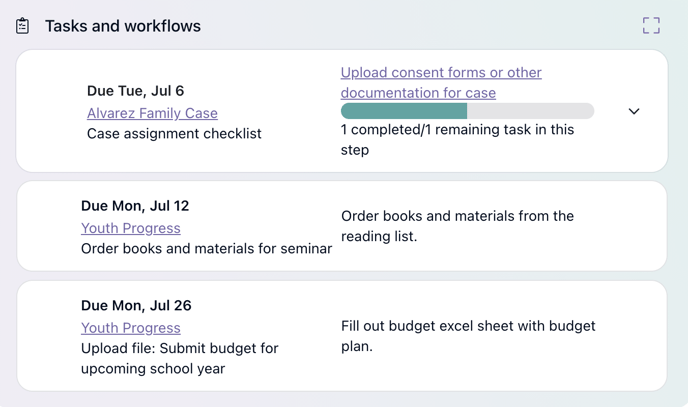 Calendar Widget
The Calendar widget will display a user's meetings. This widget defaults to display the current date, but users can view their entire calendar by selecting the square icon in the top right-hand corner.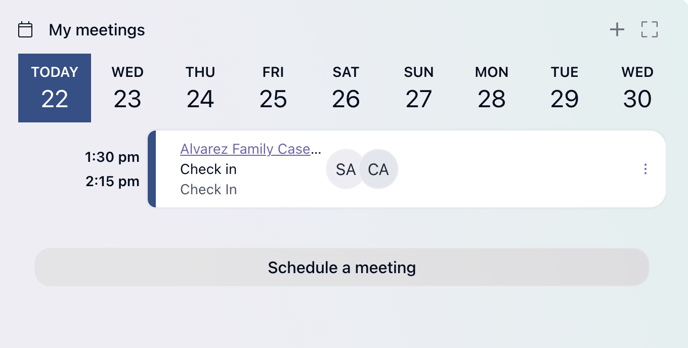 Quick Add Button
The + icon in the bottom right-hand corner will allow users to quickly create records in Casebook without the need to navigate to a Workload View. From this button, you can create a Parent Organization, a Provider, a Person Profile, an Intake Report, and a Case.