How to Refresh Your Report
This article will walk through the steps to refresh your report if you receive an error message.
Occasionally you might encounter an error in cb Reporting that looks like the image below.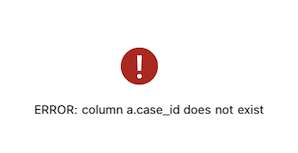 If you receive this error, please edit your report and follow the steps below:
Open your report into edit mode.
Refresh your report by selecting the three ellipses icon from the left-hand column, then select Refresh.
Depending on the field, you may have to remove it from use or replace it.
Save your report.