The Person Profile gives details about a specific person. Every individual has a Person Profile.
Person profiles are, in many ways, similar to provider profiles in that while provider profiles give details about a provider, person profiles give details about a person.
Depending on what details were filled out, the information on the Person Profile page can be limited or extensive. It can include a person's name, photo, job title, place of birth, social security number, sex, race and/or ethnicity, education, contact info, languages spoken, and more.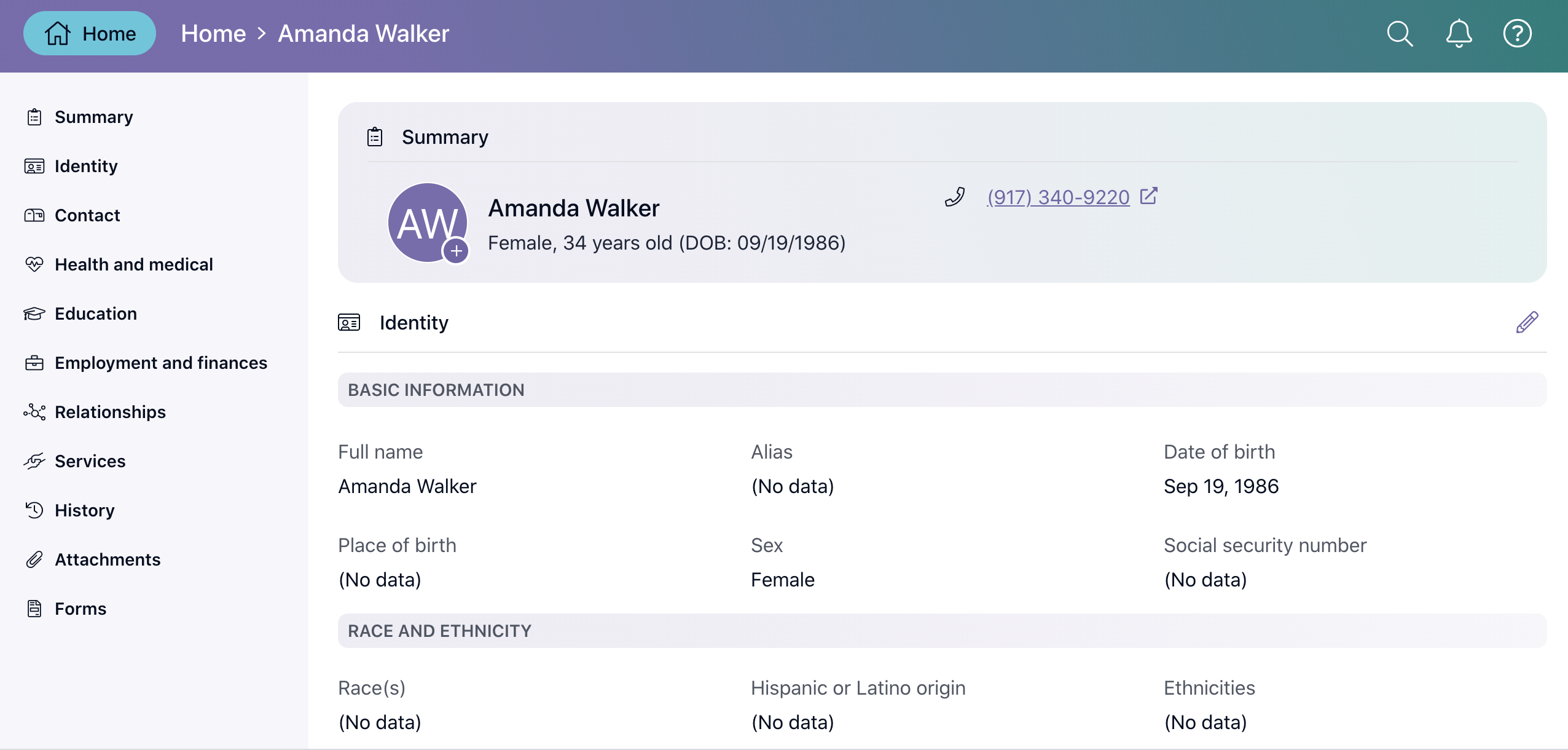 Note: If a person has more than one piece of contact information for telephone, address or email, you can mark one as 'primary.' For example, a person might have two email addresses, but you can label one email address as "primary."
History:

Casebook tracks application, intake, referral, and case history on the person profile. For example, if there are previous incident reports associated with this person, the person profile displays those reports in the "History" section at the bottom.
Note: You can use the links in the history section to navigate back to cb Intake, cb Access, and cb Engage to view that person's previous application, service referral, incident report, or case file, etc.

Relationships:


With the Family Network, users can add relationships between the person and other people in their network. Relationships are categorized into:
Family (i.e. Foster parent, Grandparent)
Informal Support (i.e. mentor, babysitter)
Formal Support (i.e. Therapist, Social Worker)
Services

Here you can keep track of all the services an individual is receiving including the:
Service name
Provider name/type of service
Enrollment dates
Actions (Edit or Delete)
Forms and Attachments:
You can now add forms and attachments directly to the person profile. Please see Attachments to learn more.
Note: If you open a form on a person profile, you must 'save' or 'submit' it in order for it to show up in the form section.
Creating People:
Once a person profile exists in the systems, you can edit the person's details, like their name, age, contact information, etc. To do this, click edit button.
There are two ways to navigate to a person profile: